Per Salo is one of the leading pianists in Denmark and he is very active both as a soloist and as a chamber musician. New works along with works from the well-known classic piano literature are represented in his repertoire with an emphasis on contemporary music. Since 1989 he has held the position as pianist and organist in the Danish National Symphony Orchestra.
Per Salo was born 1962; he trained both as an organist and as a pianist at The Royal Danish Conservatory of Music in Copenhagen; furthermore, he holds a Master's degree as a pianist from The Juilliard School of Music in New York, USA. Salo is an adventurous musician with an impressively large repertoire. He has played concerts all over the World and has made numerous recordings.
Per Salo's repertoire is very extensive. As an organist his favorite composers are Bach, César Franck and Olivier Messiaen. As a pianist he has played music by all the classical composers, however Beethoven, Schubert, Brahms, Chopin and Debussy have been the ones closest to his heart. Furthermore he has always felt drawn towards contemporary music – especially from Denmark. Carl Nielsen, Niels Viggo Bentzon and Per Nørgård are three important names.
In his job in The Danish National Symphony Orchestra he has played nearly all organ and piano parts in the orchestral repertoire. Some highlights could be Messiaen's Turangalila Symphony, Strawinski's Petrushka, Saint-Saen's Organ Symphony, Ive's 4th Symphony, Strauss' Alpine Symphony etc.
Last year Per Salo's recording of Allan Gravgaard Madsen's brand new double concerto 'NACHTMUSIK' was released. It was performed together with Christina Åstrand and the Danish National Symphony Orchestra. The piece is dedicated to Åstrand and Salo and was composed in collaboration with the two musicians
Niels Viggo Bentzon's The Tempered Piano is Per Salo's latest solo recording. The cd presents 24 preludes and fugues from the composer's master piece The Tempered Piano which was inspired by J. S. Bach's Das Wohltemperierte Klavier. Among the most important Danish piano works from the 20th century
Per Salo just finished preparing scores and orchestra material for the record company DaCapo's recording of four symphonic works by Danish composer Else Marie Pade. Originally the music was composed in the years of 1953-65 and the recording took place in May 2021 in Malmö, Sweden, with Malmö Opera Orchestra and conductor Joachim Gustafsson.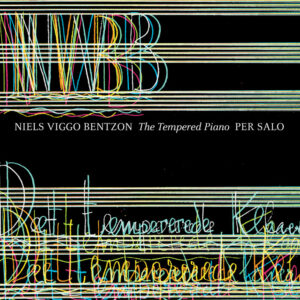 NVB
The Tempered Piano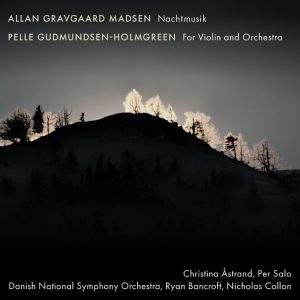 Gravgaard Madsen
Nachtmusik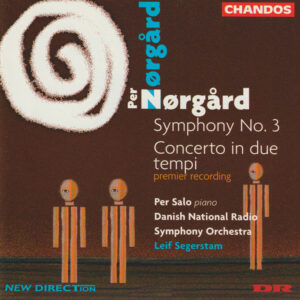 Per Nørgård
Concerto in Due Tempi
In addition to his activities as a pianist Per Salo is a very active arranger. Over the years he has rearranged a large number of classical works. He has rescored symphonic works and piano pieces into chamber music, turned chamber music into pieces for solo instrument and orchestra, symphonic scores into piano scores and many other combinations.
And with his long experience as a musician he considers it a natural and logical part of his own musicianship to create scores that honor all the intentions of the composer but at the same time meet the demands and wishes of a professional player. This work Per Salo finds very important; his own long experience as a pianist has proven to him the importance of playing from only the best scores.
Chamber music plays an important role in Per Salo's repertoire; since 1996 he has formed a duo with violinist Christina Åstrand under the name Duo Salo/Åstrand. They have given numerous concerts and have released several highly praised and award-winning CDs. Over the years the duo has strived to broaden the knowledge of Danish music abroad; hence one finds recordings of music by Danish composers such as Carl Nielsen, N W Gade and Friedrich Kuhlau and even by international composers such as Maurice Ravel, Leos Janacek and György Ligeti.
Bentzon Prelude & Fugue E Major
Niels Viggo Bentzon: Prelude & Fugue in E Major from The Tempered Piano (book 8)
Bentzon Prelude & Fugue G Minor
Per Salo is a force of nature judging by the energy emanating from this recording, and the synergy between performer and composer is as close as you could wish
Dominy Clements, Music Web International
La grandesa de Per Salo rau en el fet que la seva interpretació permet descobrir la reflexió musical que també van fer Bach, Hindemith i Xostakóvitx
Núria Serra, Sonograma
The music sounds romantic in its breathing, but harsh in the harmonics. Per Salo plays the music with energy, so that one feels the rush, on the same time as the many notes are beautifully put in place
Thomas Michelsen, Politiken